Each day, every day, we work. As we work, we create small projects, an aside, where we subvert the dynamic of our daily work. In these daily detours, we find ourselves creating a different product, a product of power subversion. We post online to friends, we doodle, we play with office supplies, and we make miniature sculptures out of the detritus of our day. These small moments provide us with micro-freedom, the freedom of participating in labor on our own terms.
Rather than a byproduct of labor, we have instead engaged in a bi-production of labor: two forms labors occurring at once, one where we fulfill an obligation of physical presence in a work force, and the second, where we are working to create our own products, be it in the form of social capital and networking, paper clip art, post-it note doodles, or even small sound explorations with staple removers.  (gallery notes, April 2013 performance of byproduct of labor at Baron Gallery in Oberlin Ohio)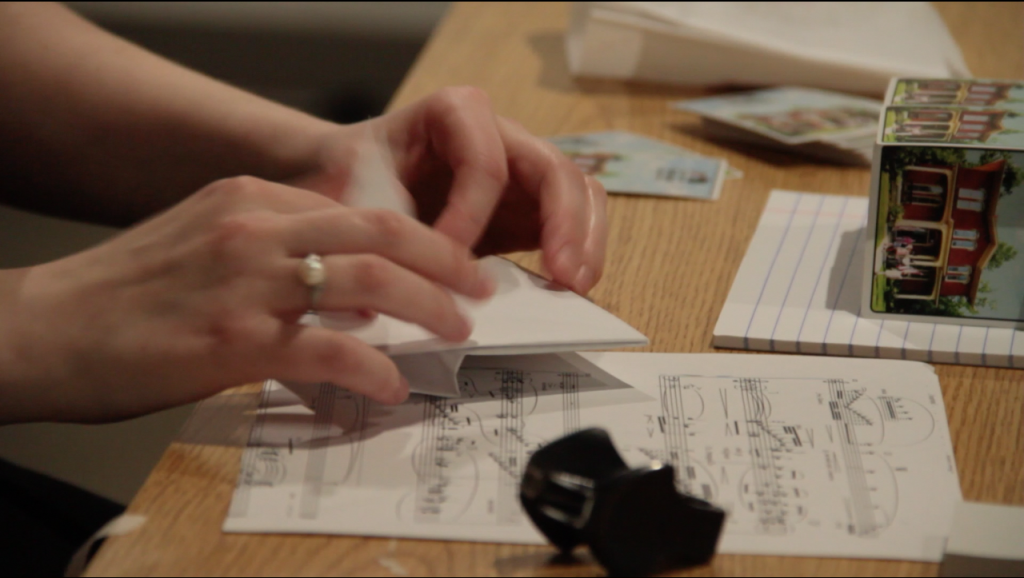 It its original conception, Bi-Product of Labor was a work created in response to the Art in the Mind (1970) project for an internet exhibition (2013), titled Enact, curated by Ann Torke and Nannette Yannuzzi. Within the context of the web exhibit, Bi-product of Labor seeks to engage with this production by inviting people to post videos, photos, and any other documentation online of the various things that they engage with during their work day: the little things that make work worthwhile, or the little things that get us to the end of the workday.  You may find the page featuring Bi-product of Labor here. < http://enact-artinthemind.com/#lyn-goeringer.html >

As a component of Enact, I was invited to present a performance event as well, which was based on the theme of the internet piece.  This performance, also titled "bi-product of labor" features six performers whose performance revolves around an evening long work session staged in a gallery with four work desks and an intern station, where four of the performers are asked to perform various tasks of procrastination and secondary aspects of labor including and not limited to origami folding, building houses of cards, drawing illustrations, hypothesizing about the impending zombie apocalypse, and other various work-survival skills. Their assignments are delivered by two "interns", who are stationed at a desk separate from the other workers.  Each of the stations are amplified using a contact microphone so that all actions taken at the desks are heard- from writing to tapping. For this performance, the performers were:
Interns:
Charles Glanders and Eastman Presser
Office Employees:
Tom Lopez, James O'Leary, Harrod Suarez, Chelsea Martinez, and Rebbecca Fülöp.
Later that year, bi-product of labor returned to the gallery as an invitation to participate at a gallery in Abu Dhabi, at Studio 1504 in the PVD: TLA (Providence: True Love Always) show, curated by Maya Allison.