huldre II (cymetic forest) is a sound and light installation using fluorescent lights, metal, wood, chimes, water, arduino, and audio drivers. The first exhibition of this work was at Ingenuity Fest 10, at the Great Lakes Science Center in Cleveland, OH in September 2014.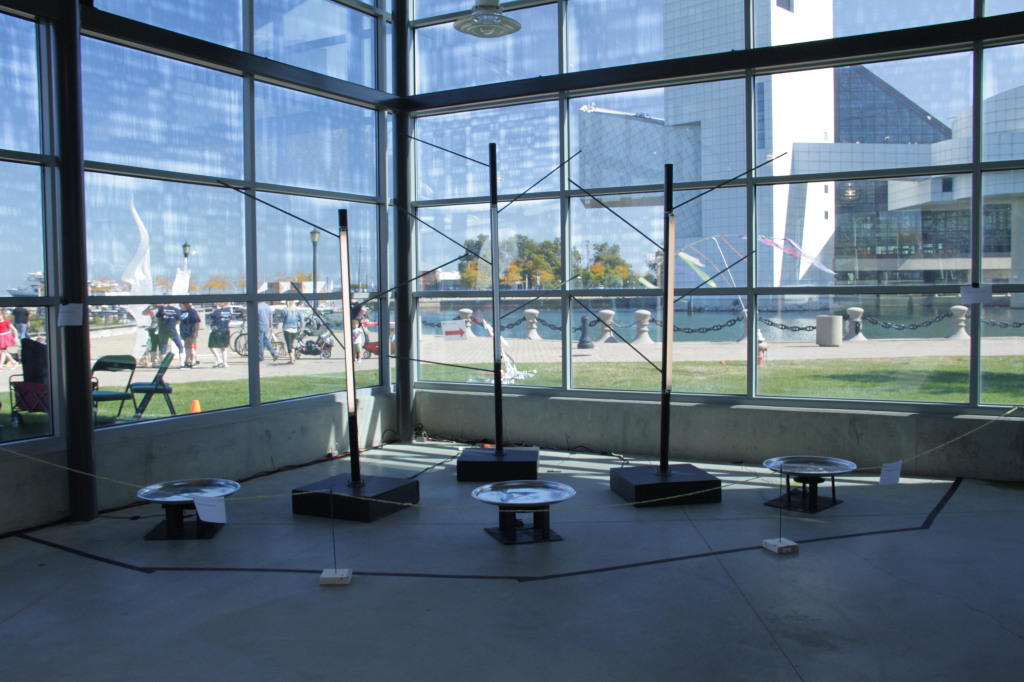 Sound produced by fluorescent lights are used to create cymetic pools near the fixtures themselves, causing water in the metal basins to vibrate with the frequency of the sound that they produce:

The installation contains three cymetically activated pools (such as the one in the short video above), three large tree sculptures with lights that produce the sound that activates the pools of water, and six smaller trees that extend the installation outward.
The small trees are surrounded by four bells that are randomly struck by small solenoids, controlled by an arduino.
For a brief walk through of the installation, please watch the video below.
Build Team for Huldre II (cymetic forest):
John Burnett, Regina Larre Campuzano, Judy Jackson, Will Johnson , Elise Mott, Charlie Spears, Victor Zheng, Will Johnson
Cynthia Taylor (programmer)
This project was sponsored by Oberlin College, Ingenuity Fest, and the Technology in Music and Related Arts program at Oberlin Conservatory, and could not have been realized without the support and assistance of John Talbert, Tom Lopez, and David Bering-Porter.