HID(den) for public consumption (2010)
HID(den) for public consumption was a commissioned work for As220's Foo Fest.  Participants in the installation were given headphones and a custom designed electromagnetic wave field amplifier.  By moving the hand held device, they were able to hear the subtle changes in the electromagnetic wave fields coming from the light fixtures flickering above.  This work was designed to be set up in less than half an hour, and was able to comfortably accommodate two participants at a time.  Over 300 people participated in the installation over the ten hour period it was up.  Through the use of headphones, participants were able to listen to the sounds they created while bands played near by.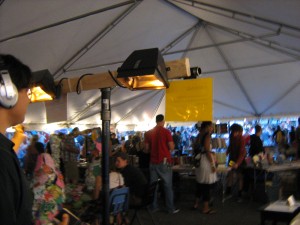 This project is closely related to the solo performance project, HID(den) (2010).